Barcelona
The one day city visit is optional. The detailed arrangement will be provided at the early of May, 2021. Below sightseeings are just for your reference.
Barcelona Beaches
From the hum of activity around Barceloneta to the diverse offerings at Nova Icaria and beyond. Sun, sand, surf and so much more await you on Barcelona's beaches.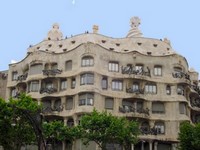 Casa Milà
Another popular Gaudi building in the Eixample district of Barcelona is Casa Milà.
It is also known as La Pedrera which in Catalan means 'The Quarry' and part of the UNESCO World Heritage Site 'Works of Antoni Gaudí' now owned by Caixa Catalunya.
The building is located at 92 Passeig de Gràcia in the Eixample district of Barcelona and the apartments are furnished in Art Deco style.
On the ground is El Café de La Pedrera which is a contemporary restaurant with views of the Passeig de Gracia. Nits de cuina a La Pedrera (Cuisine nights at La Pedrera) ~ In July 2009 a top Barcelona chef served gourmet dinners on the roof terrace of La Pedrera.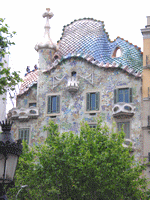 Casa Batlló
Also known as Casa dels Ossos – House of Bones was built in 1877 and restored by Antoni Gaudí and Josep Maria Jujol in the years 1905 – 1907.
This is part of the Illa de la Discòrdia and another of Gaudi's famous attractions located in the Eixample district at 43 Passeig de Gràcia. This beautiful building reflects the true genius of Gaudi and is one of the key modernista works.
The building represents the dragon which was killed by Sant Jordi (St George and the Dragon) and the famous rooftop and chimneys are the spine of the dragon and the turret and cross represent the sword of Sant Jordi, patron saint of Catalunya.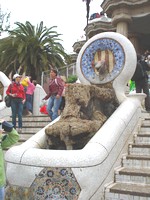 Parc Guell
This is a truly amazing and lovely park and one of the most stunning of Antoni Gaudi and you also get to see amazizng views of the city. Definitely one of the must do's in Barcelona.
The location is lovely with woodland walks which in Gaudi's time were intended as the playground of the rich. Today this lovely park is the modernist playground for all of Barcelona to enjoy.
Academic Supported By
Social Parters
Welcome to join in ICIEB 2021 as listener if you do not want to publish paper and present in the conference. The registration should be finished through the Online Registration System before the registration deadline.

ICIEB2021 is warmly inviting scholars and experts in the fields of Mobile business, E-Business and Internet Technologies and Applications to consider serving as Reviewers. If you have an interest or you have someone to recommend, please send latest Resume to official email address:



Reviewers' name, affiliation and nationality will be updated on the webpage and proceedings. Your Resume and email are warmly welcomed.
Contact Us
Conference Secretary: Carol Wu
E-mail: icieb@academic.net

Address: Unit B on 15th Floor Eu Yan Sang

Tower,Nos.11/15, Chatham Road South
Kowloon, Hong Kong, China


Tel :+86-13438979298 Or
+852-3500-0005